Book Launch
On Friday, October 14, 2011 at 19.00 hrs Topp & Dubio launched their artist's book 'All Your Favourite Projects'. The first copy was shot into the air with a two and a half meter high cardboard cannon. The happening took place in the city center of The Hague.
Topp & Dubio - Book Launch with Dirk van Weelden, Matthijs van Boxsel, Jacob Voorthuis, Thorsten Nass, Joep Neefjes (Loodwicks Press Images), Arno van Roosmalen (director Stroom), Marie Jeanne de Rooij (director Gemak) and an enthusiastic brass ensemble.
The Book Launch was also the start of Hoogtij#26, The Hagues art tour.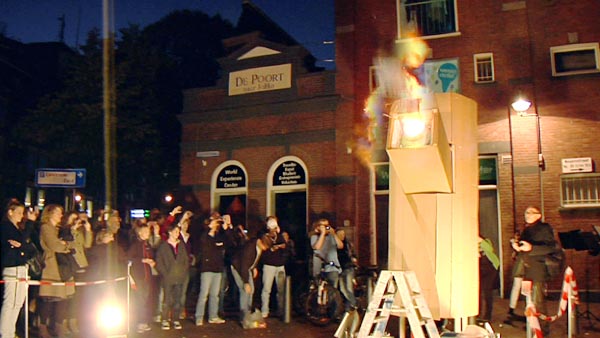 photo: Gerard Holthuis