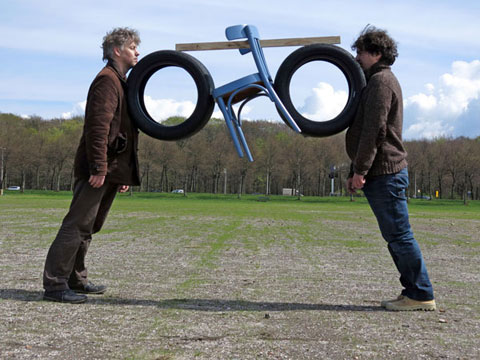 Topp & Dubio - Who do we think we are?
LIVE EVENT at NCCA Moscow, Russia
Live presentation on multiple identities and art collaborations by the Dutch artists Topp & Dubio.
Topp & Dubio is a multidisciplinary interventionist artist duo from The Netherlands. At least that's what they think. Compared to others, they might be something completely different. Within this live multimedia presentation, Topp & Dubio will show themselves, their art and their unauthorized collaborations with Sergey Bratkov, Fischli & Weiss, Kurt Schwitters, Gustav Klutsis, Gilbert & George, Yuri Lunacharsky, John Baldessari, Anna & Bernhard Blume, Alexander Rodchenko and other colleagues.
---
National Centre for Contemporary Arts - Moscow
NCCA, Zoologicheskaya street 13, build. 2, 123242 Moscow, Russia
Event: 07.10.2013 - 7.30pm
---